Features of Badminton Competition Court Flooring
Contest selection: professional events recommend the use of products.

Health and environmental protection: use high quality PVC raw materials and formula design, natural environmental protection.

Professional anti-slide: imitation quartz sand texture designed according to professional badminton game movement principle.

Super wear-resistant: PET coated plastic cloth entrainment layer, with super stability.

Comfort cushioning: high density and high flexibility foaming for excellent impact absorption and cushioning.

Full power: stable rebound power, excellent energy return.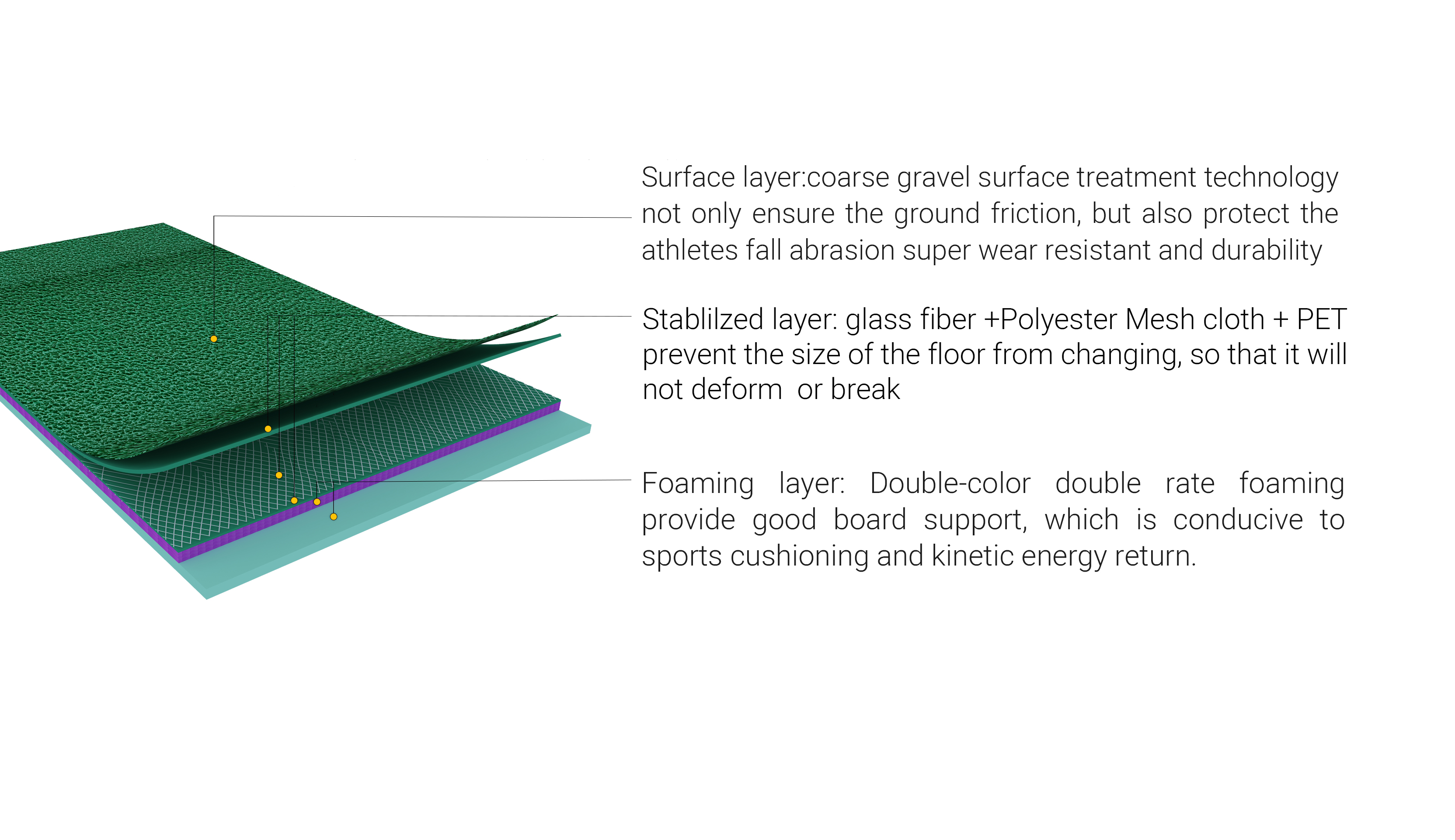 5.5mm profile chart of Badminton Court Floor


The Importance of Badminton Court Floor
Although markings and nets are important, the floor and the things underneath are often overlooked. Considering that these features are invisible to the naked eye, this is not surprising. Many times, contractors take advantage of the lack of awareness of the owners and use inferior materials in the floor. In the long run, this substandard is not lasting. However, the floor can be well thought of as the foundation of a building, because the entire badminton infrastructure is built on it. Any problems in the badminton floor may waste the hard work done on building this infrastructure. Moreover, it will affect the gaming experience and may cause serious harm to players who have been exposed to it for a long time.
Specification of Match Level Indoor Badminton Court Flooring

| | |
| --- | --- |
| Characteristics | Declared value |
| Friction coefficient | 1 |
| Shock absorption (%) | 8 |
| Ball Bounce Rate | 94% |
| Ambient Temperature (℃) | -40~100 |
| Hardness (Shao A) | 78 |
| Flame retardant | Grade 1 |
LANGNING proudly manufactures high quality Badminton Competition Court Flooring with low price and easy installation. It is made of 100% PVC sports material with a thickness of 4.5mm, 5.0mm, 5.3mm, 5.5mm and 6.0mm. In addition, we can provide customization service to meet your requirements to our best. Please feel free to contact us to get more details of Match Level Indoor Badminton Court Flooring.
Specification of Match Level Indoor Badminton Court Flooring

| | |
| --- | --- |
| Characteristics | Declared value |
| Friction coefficient | 1 |
| Shock absorption (%) | 8 |
| Ball Bounce Rate | 94% |
| Ambient Temperature (℃) | -40~100 |
| Hardness (Shao A) | 78 |
| Flame retardant | Grade 1 |